Age Suitability
Learning to Read
Phonics Hero is suitable for children in the first three years of school; typically, that is around 4-7 years old. We find that some children will be ready to start to learn to read between ages 3-4, whereas for others it might be at 5-6.
Catch-Up
Phonics Hero is also ideal for those children who need a boost to catch-up with their peers.
When first logging into Phonics Hero you will be presented with an option to start at the beginning. Alternatively, your child can take our Placement Test which will check their knowledge of the phonics code and start them off at the correct level. This is useful for those who have already started on their phonics journey.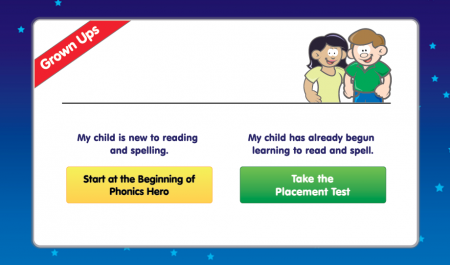 Older Children with Spelling Difficulties
Lots of older children, who haven't been taught with systematic, explicit phonics, may 'get by' in their reading but their spelling exposes gaps in their phonics knowledge. As long as the child is comfortable with the younger nature of our images, they can play our games. You can start off with the Placement Test or you can check out our levels and ask our team (email info@phonicshero.com) to move them up or down. We will work alongside you to find the right content to quickly fill these gaps.