Premium Add-on: Give Every Child a Phonics Hero Account
You are teaching Synthetic Phonics and seeing the children improve in leaps and bounds. To boost these improvements, you'll also want to ensure the same principles are being reinforced at home and whilst children make use of the technology in your classroom.
How the Child Account Works:
The storyline
Children set off on a mission to rescue their superhero friends: Flight, X-Ray, Stretch, Speedy, Strong and Invisibility, who have been locked up by Dr. Lazy Bones. In Part, 2 children lock up the escaped baddies. And finally, in Part 3, children take on Dr. Lazy Bones to be crowned the champion of reading and spelling!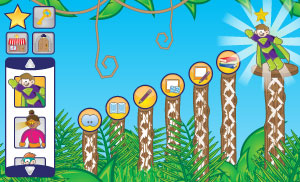 Part One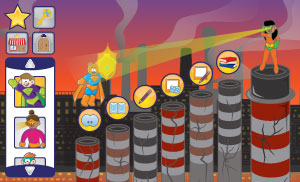 Part Two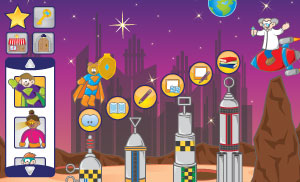 Part Three
Watch the Part 1 Mission Video:
The skills being practised

To complete a level, children work through six essential Synthetic Phonics skills: knowing the sounds, reading, spelling, camera/tricky word reading, camera/tricky word spelling and sentence reading. Once they complete a level, the heroes are unlocked/the baddies are locked up/they are one step to closer to capturing Dr. Lazy Bones.
Motivating at every step
By playing the games children earn star points. At any point in playing, children can visit the Star Shop; to buy hover boots, shields and lots more! All these goodies are then hidden in the secret hideout. Additional star points can also be earned by clicking the superhero leader, Zak, when he turns up in the games.

HUGE variety of games
The games are wacky and a little bit… kooky; one minute children are feeding hungry tigers, the next they are spray painting the lambs and then there are those pesky flies to swat! The games are hugely varied to ensure children's engagement.

Use on the app and computers
The Child Accounts can be used on iPads and Android Tablets, alongside computers.
Manage your Child Accounts
On purchasing your Child Accounts, you will also get the tools to manage you students: assign levels, set homework, monitor progress and create reports.