Tech Trouble Shooting
We've recently updated the backend of Phonics Hero. If you are having difficulties the following information should help fix it.
Playing on the Website
Logging In/Clicking Buttons:
Follow these three steps:
Ensure you are using the Chrome internet browser to go to our website – you can download it for free here.
Your computer has a memory of the sites it's visited in the past – its cache. You will need to clear it since the 'beginning of time'. Follow the steps in this video to find out how:
Restart your router – sometimes information gets clogged in your router too (who would have thought?!).
Games Cutting Off:
Are the letters or icons 'outside' of the screen? Like the image below: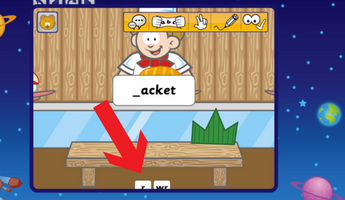 To make sure you can see the whole game, please maximise your browser to fill your full screen:
Windows: F11
Mac: Command, Ctrl and F
You may need to refresh your page after doing this.
If that doesn't help and the games are still cut off, zoom out to 80%:
Windows: Ctrl and –
Mac: Command and –
Again, refresh your page after doing this. You can watch the steps in this video:
Playing on a Surface Laptop:
Customers using these computers are experiencing issues with using the games. Please use a mouse with the Surface.
Playing on an iPad
The old app no longer works, you will have to update it here.
If you are in a school, and have updated multiple iPads using Apple Configurator – it will not work. The software is very unstable and is not performing to Apple's standard! You will need to update, one-by-one.
Playing on an Android Tablet
We work best on tablet screens 8″ and over, with good graphic processing power. For a list of compatible devices see here.
You will also need to update the app.
Still Having Problems?
Contact us
here
.