Support During Coronavirus: Home Learning for School Closures
We've had teachers getting in touch, asking how we can support home learning if there are school closures due to Coronavirus.
Parents: if you are reading this, we offer free 7 day trials of Phonics Hero, independent of schools. You might also want to take a look at our worksheet packs and read how I helped my child learn to read at home.
Here is How We Can Support Schools:
Free 30 Day Phonics Hero Account for Children
Every school can issue each child with their own Phonics Hero login, for use at home on a computer, iPad or Android tablet. We have an obligation-free, 30 day trial which will cover school closures and can be started at any time. To set your children up, log in (or sign up first) and hit 'Trial Child Accounts'. If you get stuck, this quick video will show you how to do it:
Child Accounts – extra resources:
You will need to communicate with parents on how to use Phonics Hero at home. We've written an email for you to send home which details tech specifications and how to log in. You can find it here. We also have a Chinese and Spanish translation.
You can keep track of children's progress with the reporting feature in your Teacher Account.


Keep up children's motivation with these colour-in certificates. You can find these here.
Interactive Phonics Lessons with Superhero School
If you are going to be teaching online lessons, either recorded or live, take a look at Superhero School. It will give you the structure and the content to run your online phonics lesson. We have an obligation-free 30 day free trial which you can use whilst your school is closed. Take a look at our trailer:
To activate your trial, log in or sign up to a Teacher Account and click Superhero School in the menu on the left. Please note that it is only available for our Playing with Sounds order.
Worksheets
In your Teacher Account you have access to over 200 free worksheets, covering all levels and skills. You can download these and either email them to parents or upload them to your online portals for children to work on at home. Access them via the Learning Library in the Teacher Account. If parents want to purchase the whole pack of over 200 worksheets themselves, for a very reasonable US$20, send them to our Playing with Sounds or Letters and Sounds version.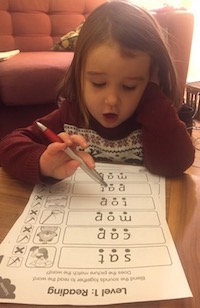 Supporting Parents
Some parents may feel a little overwhelmed with the support they are required to give their children while they learn at home. These pages would be great to share with parents to hold their hand:
Please do not hesitate to get in touch on info@phonicshero.com if there is anything else we can do to help.
Katherine and the Phonics Hero team
Author:
Katherine Wood
Katherine is the CEO and co-founder of Phonics Hero. She has worked in synthetic phonics for over 15 years, working with hundreds of schools to support them in their implementation of synthetic phonics.
---